梦魇残响浮尘幻灭中国新古典史诗旋律死亡金属乐章再临
The dust disillusioned the remnants of nightmares / Chinese epic neo-classical melodic death metal arrives once again
魂飞魄散暗夜支离破败黎明鸿沟裂痕中乱舞共鸣祭献之歌
The night shattered and broken / The dawn in the chasm / Frightened souls dance and resonate in the rift / Singing the song of sacrifice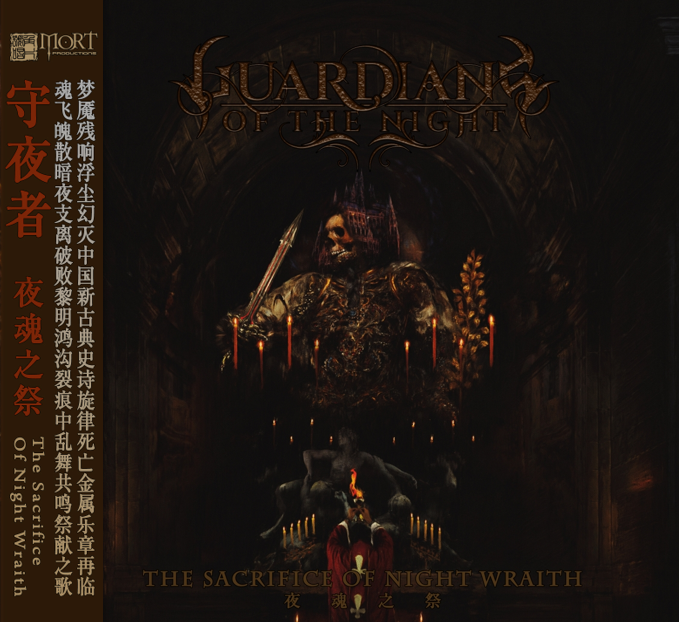 "The Sacrifice of Night Wraith"
中国代表性旋律死亡金属乐队守夜者在全新的成员阵容契合下,以这张全新的专辑开始崭新的篇章。丰富的旋律主体下密集迅猛的金属节奏融合着多样的音乐性,欧式古典音乐的键盘与主音吉它交相辉映,呈现出巴洛克式的极端金属风格。黑暗魔幻的内容题材将晦暗深涩的情绪氛围表现为深厚的超现实主义精神深沁于他们的作品之中。激昂的主唱撕裂的唱腔将英雄主义情怀蕴涵于他们所创造的旋律幻世气息之中。
With the release of its latest album, Guardians of the Night, the iconic Chinese melodic death metal band with a completely new lineup, begins a brand-new chapter. Dense and swift metal rhythm blends diverse musicality with its rich melody. The keyboard in the style of European classical music and the lead guitar complements each other, presenting a baroque style extreme metal. The dark and magical themes and content of their works express a surrealist spirit that encapsulates a deep emotional atmosphere. A passionate melody and fantasy atmosphere are fostered by the lead singer's tearing vocals.
距2019年的上一张力作《冥河之沙》发行至今两年,旋律死亡金属乐队守夜者2021全新专辑《夜魂之祭》如期而至。如今这张全新的专辑音频工作已经完工。所有录音工作由守夜者贝司手赵晓东完成,混音和后期母带处理由北京交响黑金属乐队"惘世湮灭"主导 窦定邦(铮鸣音画工作室"Loud Visions Studio)完成。封面画作由斯洛伐克艺术家 Hans Trasid 创作完成。这张专辑计划于2021年9月10日发行。实体唱片与乐队周边T恤预订已经开始。大家可以期待这张精彩的专辑了。
Two years after the masterpiece "Sand of the Styx" released in 2019, the new 2021 full-length "The Sacrifice of Night Wraith" by melodic death metal band Guardians of the Night has arrived as scheduled. Now the audio work of this brand-new album has been completed. All recording work was done by the band's bassist Zhao Xiaodong. The mixing and post-mastering were done by Dou Dingbang (Loud Visions Studio), leading member of Beijing Symphonic Black Metal Band "Nether World Annihilate". The cover art was completed by Slovakian artist Hans Trasid. This album is scheduled to be released on September 10, 2021. Pre-orders for physical records and merchandise T-shirts of the band have already begun. This is an excellent album to look forward to.

守夜者乐队 – 冥河之沙 官方纪念T恤 128元
Guardians of the Night – Sand of the Styx Official T-shirt 128rmb
守夜者乐队 – 夜魂之祭 官方纪念T恤 128元
Guardians of the Night – The Sacrifice of Night Wraith Official T-shirt 128rmb
守夜者乐队 – 冥河之沙 加绒卫衣 168元
Guardians of the Night – Sand of the Styx Thick Long Sleeve Sweatshirt 168rmb
守夜者乐队 – 夜魂之祭 签名CD预定 80元
Guardians of the Night – The Sacrifice of Night Wraith Signed CD pre-order 80rmb
守夜者乐队 – 夜魂之祭 签名CD+T恤套装 198元
Guardians of the Night – The Sacrifice of Night Wraith Signed CD + T-shirt bundle 198rmb